At Kingdom Firewood we pride ourselves on delivering the highest quality premium kiln dried hardwood logs and the highest quality customer service to the people of Fife and Kinross. Our logs are kiln dried quickly in wood fired kilns which means that they have an average moisture content of 15%. This kiln drying process guarantees that our logs are ready to burn. This is not always the case with seasoned logs.
In comparison to kiln dried logs, seasoned logs are air dried outside for up to 2 years. This process of air drying allows the moisture to reduce in the logs thus making them safe to burn in your fire. Seasoned logs have an average moisture content of 25% in comparison to 15% for our premium kiln dried logs or 20% for other kiln dried logs.
However, it can be difficult to know exactly what that moisture content of seasoned logs are before you buy them. This is partly to do with the fact that different types of wood take longer to season than others but also to do with the fact that lots of people, such as tree surgeons, sell wood that they have cut and seasoned themselves without ever checking the moisture content.
We have lots of customers who previously bought what they believed to be seasoned wood but quickly realised that it was green wood. (Green wood is wood that has been freshly cut and has a high moisture content meaning it won't burn properly in a fire if at all) We were contacted by one customer who was quite happily burning what she believed to be seasoned wood in her stove for a few months when her chimney suddenly caught fire. Her stove was brand new as was her flu and when the chimney sweep arrived the following week to clean her chimney, he advised her that the flu was thick with tar because she had been burning wood that was high in moisture content.
Kiln dried wood is guaranteed to be below 20% moisture content which means that you can rest assured that it will burn consistently and cleanly. This means that your stove glass will stay cleaner as will your chimney and flu although it is always recommended that you get your chimney swept once a year.
Our customers that previously used seasoned wood regularly tell us that the main difference they notice between seasoned and kiln dried wood is the heat. They can't believe how much hotter the kin dried wood burns which means that they need to put less logs on the fire to get the same heat output.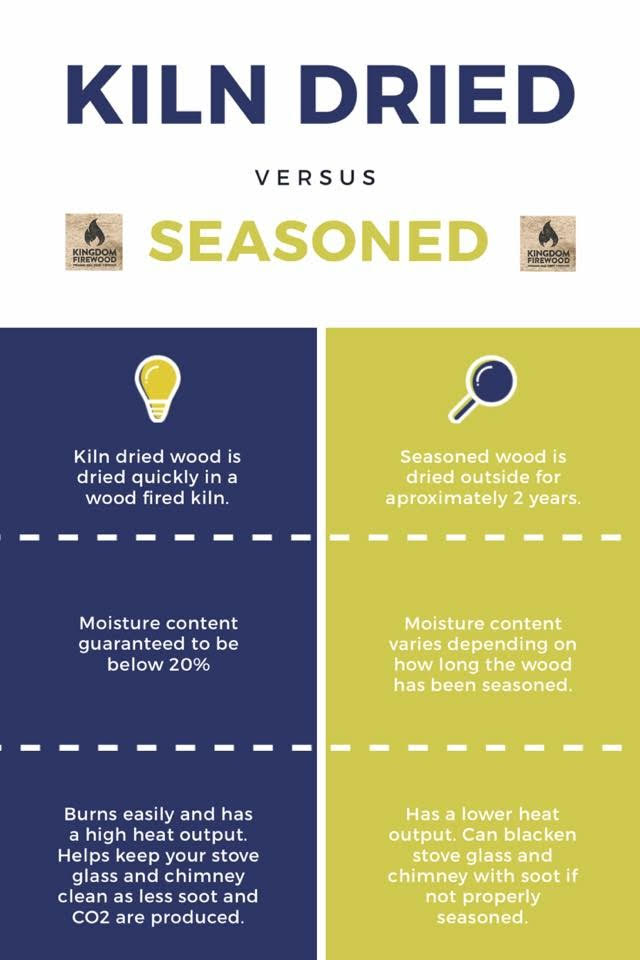 Here's what our customers said:
'A big Thank you to everyone at Kingdom Firewood. Excellent service throughout, from placing the order right up to delivery straight into our garage just a few days later. The wood is fantastic quality.'
Catherine Riddell
03/09/2018
'Great quality wood, high heat output, great service and very friendly'
Mark Duncan
11/10/2018
'Great service. Logs are a good size and give a lot of heat, smell nice too!'
Julie Denholm
04/10/2018