At Kingdom Firewood we know the importance of having a reliable source of quality firewood in the summer months as well as the winter months. That is why we stock our kiln dried hardwood logs, kindling, firelighters and briquettes all year long.
There are lots of reasons why people may need to buy quality firewood in the warmer months as well as the cold depths of winter. If you live in an old farmhouse like us then you will be well aware that your house gets cold in the evenings, even in the summer time. Oil central heating is a very expensive way to warm your home and sometimes in the summer months you just need a touch of warmth to take the chill out. We have found that lighting our log burning stove in the evenings during the summer months produces more than enough heat to warm our home and keep the dreaded chills away. It's also incredibly relaxing sitting by the fire in the evening, radiators just can't compete!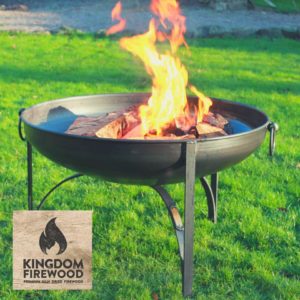 During the summer months we all tend to spend more time outdoors enjoying the sunshine and our gardens. Our kiln dried hardwood logs are perfect for using in open fire pits as they light easily and do not spit unlike seasoned logs. The reason that our logs do not spit or spark is because they have a very low moisture content, averagely 15%. When you find logs are spitting it is the sap and water moisture that is escaping from the logs. Our hot blox and hotties are also fantastic choices for outdoor fire pits as they have even less moisture than our logs.
We have several customers who are lucky enough to have BBQ huts in their gardens. These little gems are fantastic places for relaxing in during the summer and winter months. Our kiln dried logs are great for using in BBQ huts as they are considered to be a smokeless fuel so they don't produce much smoke, just enough to flavour whatever you are cooking on your bbq!
Our firelighters are a great choice for lighting your summer bbqs and fire pits. They are natural wood wool, dipped in wax and do not contain any nasty chemicals. This means that they are safe for using near food. They work wonderfully with our kiln dried kindling chunks.
To order your delivery of firewood please call: 07402882556 or you can message us on Facebook or Instagram.