The Kingdom Firewood team had a great time attending the Markinch Highland Games last Sunday, 2nd of June! We had our own stall showcasing all our wonderful products and we thoroughly enjoyed chatting to several of our customers as well as watching the highland games!
The Markinch Highland Games are held annually in John Dixon park, which is only 10 minutes from the Kingdom Firewood shed. We have attended the games several times in the past with our children but this year was the first time that we attended the games representing Kingdom Firewood.
We had a great time as always, despite the rather soggy ground due to the early morning downpours! The highland dancing was moved into the town hall due to the muddy conditions but the rest of the events including the pipe band contests went ahead as normal and were fantastic to watch! Did you know that the pipe band contest at Markinch Highland Games dates back over 100 years?!
As a small, family business in Fife we are making a big effort this year to get out there are meet more of our customers and potential customers. We are not a huge corporation.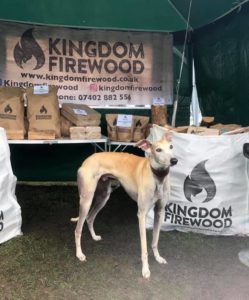 We don't have a massive advertising budget or someone working full time on improving our website constantly unlike other companies that you might find online. Therefore, we are hoping that by bringing our Kingdom Firewood stall to many of the events that we would usually attend as a young family in Fife that we can reach new customers and spread the word of just how great our locally sourced kiln dried firewood really is!
We pride ourselves on proving the highest quality firewood that Fife has to offer and we also pride ourselves on providing locally sourced firewood.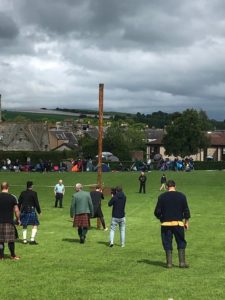 All our hardwood logs, kiln dried kindling, briquettes and bags are purchased from suppliers less than 50 miles from the Kingdom Firewood shed. All our kiln dried firewood is  dried, cut, split and processed in Scotland therefore all the money that we spend on purchasing our wood is kept in the local economy. All of our kiln dried kindling is cut and dried even closer to home on the neighbouring farm! We believe that it is very important to support local businesses and our local economy here in Fife and Scotland in general. We hope to communicate this message to the people that we talk to at both Fife Farmers Markets and the various Highland Games that we are attending this year.
We look forward to seeing you at Cupar Highland Games on Sunday 16th June in Duffus Park!