We are very excited to announce that we now stock Coffee Logs! These little logs are a great alternative to traditional firewood and each log that you burn actually helps to reduce the amount of greenhouse gases going into the atmosphere! That fact alone makes Coffee Logs a very appealing product!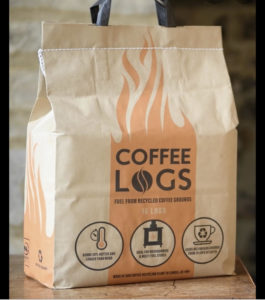 Each Coffee log contains the waste coffee grounds of 25 cups of coffee. The grounds are compressed in the same way as wood or hemp briquettes and contain no glue or fillers. This makes them safe for use in stoves and other multifuel appliances but they are not recommended for bbqs or open fires. The coffee grounds used in Coffee logs are sourced from businesses throughout the UK, from offices to instant coffee factories. The logs themselves are also made in the UK.
Coffee Logs can be used as a replacement or complimentary product for traditional firewood and you burn them in exactly the same way. We always recommend starting your fire with our natural wood wool firelighters and kiln dried kindling for 2 -3 minutes before adding any logs. This helps to get some heat in your stove before you add a bigger product such as kiln dried logs or Coffee Logs. Coffee Logs can be burned on their own or as well as kiln dried hardwood logs.
There are various reasons why you might want to burn Coffee Logs instead of kiln dried hardwood logs. They come in a compact paper bag that has a handle on it which means that they are very easy to move and store. One packet of Coffee Logs contains 16 logs, this has the equivalent burn time of one log basket of kiln dried logs (depending on how big or small your basket is of course!) but it gives you a reasonable measure of how long a pack will last. Each Coffee Log burns well for around 1 hour and it is recommended to not use any more than 3 logs at a time as they burn very hot (much like kiln dried hardwood). We have a medium sized stove at home and usually put 2 kiln dried hardwood logs in each time we refill it. When using Coffee Logs we also put 2 logs in.
When used coffee grounds are sent to landfill they emit the greenhouse gas, methane and methane gas is 34 times more potent than carbon dioxide. By recycling the coffee grounds into Coffee Logs 80% less emissions are generated in comparison to sending the grounds to landfill which gives the Coffee Logs amazingly green credentials.
When burning any kind of briquette it is important to remember that it is not actually a wood log. This of course means that it will behave differently than a log and you need to adjust to this. For example wood briquettes should always be placed on their end which usually has writing on it. This helps the air to flow around the briquette as opposed to laying it flat in your stove. You may also find, depending on the product, that you need to allow more air to flow into your stove than you normally would with kiln dried wood. The Coffee Logs burn very well if put into your stove on their end and then left alone. If you poke and prod the logs they will crumble and your burn time will be reduced.
If you would like to buy some Coffee Logs please visit the shop section of our website. Single packs are available as an add on product to any orders over £50 or you can buy them in a bundle of 12×16 for £84 or 24×16 for £155.