Siblings reunited – STAR – are a Fife based charity who bring together brothers and sisters who have been separated in the care system. They are one of our customers and it is through making deliveries to their unique farmland setting that we discovered just how wonderful this charity is. We think that Karen and her team do such a fantastic job that we are running a fundraiser for the whole of November and will donate all the money raised to STAR. We will donate £3 from EVERY sale that we make in November.
Last year a young family that used to be neighbours of ours fell upon hard times. The father unfortunately passed away after a short battle with cancer leaving Mum on her own with 5 young children. With little support from her own family Mum couldn't cope and has been living in Stratheden hospital ever since.
This story in itself is very sad but the part that really gets to us is that the 5 children were separated all across Fife and even Glasgow and they still are. It's hard to even imagine losing your Dad then your Mum and then being pulled away from the only other people that you really know and love.
When children are placed into the care system it is not guaranteed that they will be able to live with their siblings. In the case of a family with 5 siblings the chances of living together are very low. Unfortunately Fife Council do not have the provisions to reunite siblings when they are in the care system. You might assume that brothers and sisters are able to meet up once a week or once a month for a catch up but this is not the case. They usually do not have the opportunity to see each other at all whilst in the care system.
This is why we think Sibings Reunited – STAR- is such a brilliant charity! Star provides a safe, fun and exhilarating learning environment where children can grow emotional bonds and help overcome the trauma associated with being separated from their siblings in a natural, calming and fun environment. The children from the family that we know have recently been to STAR together and loved it.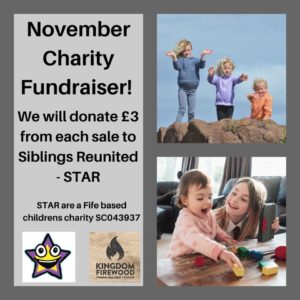 STAR offers this service to children from all over Scotland and as you can imagine there is a very high demand! Unfortunately STAR only have limited spaces available and need to fund-raise constantly to keep up with referrals. We spoke to Karen, who started and runs the charity, and she said that Christmas is a very busy time for them. That is why we decided to do our fundraiser in November, so that we can get the money raised over to them in early December.
We will donate £3 from EVERY sale of our premium kiln dried hardwood logs to STAR for the whole of November. Thank you to all our customers who order from us in the month of November. If you would like to donate separately to this fantastic charity please follow this link to their website https://www.siblingsreunited.co.uk/