We are excited to announce that we have a new team member joining our Treeworks Fife team! Andy is a fully qualified and experienced tree surgeon. This fantastic addition to our team means that we can offer our tree surgery services in addition to our firewood delivery service during peak firewood season!
We created Treeworks Fife in 2014. When we launched Kingdom Firewood in 2017 it meant that we had to pause our tree surgery services during peak firewood season as Callum was our primary tree surgeon and firewood delivery driver! However, as both businesses have grown we are now able to employ another full time delivery driver and now we also have Andy!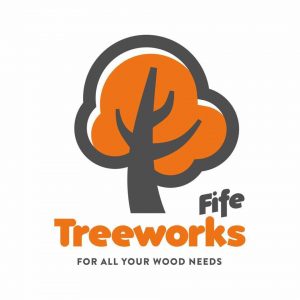 Treeworks Fife offer various tree surgery services throughout Fife and the surrounding areas. Our services include tree pruning, tree felling, dismantling dangerous trees, chipping, hedge cutting, garden clearances, garden maintenance. All our team members are fully qualified and insured and we only use the highest quality equipment giving you peace of mind that we will do the job efficiently and safely. We offer very competitive rates and are happy to take on both small garden jobs and larger scale jobs.
Here's a few of our customer reviews:
'Above and beyond. Had a silver birch removed from our garden that was blocking light. Tree is gone and no mess as Callum and his team took care of everything. Lovely service with a smile, thanks again – would highly recommend!' – Clare April 2019
'Very pleased with the work carried out today. Very professional and will definitely be recommending to others. Thank you Treeworks Fife' – Hannah May 2019
'Just had over 30 trees cut down by Callum and his team and they did a fantastic job. Highly recommend Treeworks Fife. Very professional. Worked their wee socks off. Thank you for giving me a huge garden.' –  Avril June 2018