We are now in week 2 of Lockdown and we know as well as anyone that this poses lots of challenges to our normal way of life, boredom being right up there with one of the hardest things! The knowledge that we are staying home to help protect our NHS and the vulnerable members of society makes it all worth while. However, it doesn't make it any easier so we have come up with a few Kingdom Firewood related tips for relieving the boredom during Lockdown! (We recommend a responsible adult is always present during each one of these activities).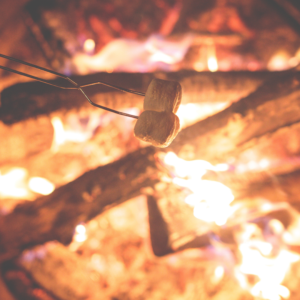 The Next time you go shopping for the essentials add a couple of packets of marshmallows to your trolley. Toasted marshmallows taste amazing and it can be great fun toasting them and trying not to let all the goey, yumminess stick to your face! You can toast marshmallows indoors on your open fire or even in your log burner with the door open. All you need is some BBQ skewers and ideally a fire glove as it gets very hot! Try turning  all the lights off and telling spooky stories while you toast them or see how many times you can eat/toast/eat/toast 1 marshmallow.
Make a 5 star bug hotel. One of our lovely customers gave us this idea. They sent us this picture of their daughter making The Ritz Bug Hotel using a combination of our premium kiln dried hardwood logs and some sticks/brash they found in their garden. It's a great way to get the little ones involved with the nature in our gardens and if your garden consists of mainly concrete then you can make it with logs and kindling chunks. Keep and eye on it over the weeks and see who is living in your garden!
Make an outdoor shelter/fort with your firewood bag. We reuse all of our firewood bags by taking them back to our manufacturer to get restitched, however, we are more than happy for our customers to keep a hold of them if they need them. The firewood bags are made from a relatively thick, woven plastic so they are sturdy and waterproof, perfect for cutting open and making into a fort in the garden! Get creative and see what kind of fort you can make. If you have any duct tape you can stick multiple bags together to make a bigger fort.
Have a bbq. Premium kiln dried hardwood does not spit or spark and they produce very little smoke which makes them great for using in a bbq in your garden. It will give your food a yummy smokey flavor.
Create an outdoor firepit. If you are lucky enough to have a decent sized garden you can dig a hole and make an outdoor firepit. It's best to google how to do this safely as we don't want to hear of any accidental wild fires but it's generally fairly straight forward and you will hopefully have all the materials you need already in your garden. Our premium kiln dried logs light easily with very little smoke produced so they are great for an outdoor firepit.
Make up silly games. You could try a game of log shot putt or kindling jenga. If your creative you could have a log painting competition. Our logs are relatively smooth and bone dry so they are great for paining on.7.
Stay cosy by the fire with your loved ones. Last but not least a great idea for relieving the boredom of lockdown is to gather your family into one room, get your comfy clothes on, get the munchies in, put on a movie and light the fire. We pretended to start selling comfy pants as a joke for April Fools, I'm sure everyone already has their own!
We hope these ideas have inspired you to try something different during Lockdown. We greatly appreciate the continued support from our customers during this time and know that we are very lucky to still be able to operate the firewood side of our business at the moment. Take care and have fun at home.