The Woodsure Ready to Burn scheme was launched in 2017 in response to the increased use of wood burning stoves within homes in the UK. This increase in wood burning stoves meant there was an increase in sales of firewood and it was noticed that a great deal of this firewood was not suitable for immediate burning as it was considered wet wood.
Following DEFRA's clean air strategy which was published in 2019 the sale of wet wood will be banned in England on 21 February 2021 with Scotland to follow suit soon after. The Ready to Burn scheme with it's clear logo set out to educate and inform consumers of the dangers of burning wet wood and allow them to make informed decisions on buying suitable dry wood.
What is wet wood?
Wet wood is wood that has recently been harvested and has a very high moisture content of around 40%-60%. This wood is not suitable for burning although it can often be found for sale in netted bags in garage forecourts/garden centres. It gives off up to 5x more particulate emissions than wood that has been dried below 20% moisture content which is obviously bad for the environment but it can also be damaging to your stove and chimney.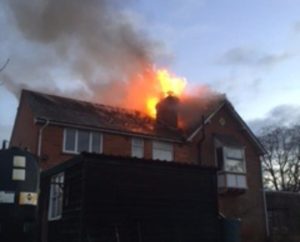 Wet wood still contains a high proportion of the trees natural oils and sap as well as water and when the wood is burnt this sap is released as thick black smoke containing particulates that can accumulate inside your stove and up your chimney. If this accumulation of sap particles is left to build up for too long it can begin to clog up your chimney and increase the risks of a fire occurring inside your chimney which can be dangerous and expensive to fix. The thick black smoke produced also blackens your stove glass and inside your stove which is not very aesthetically pleasing.
Is seasoned wood the same as wet wood?
Seasoned wood and wet wood are not the same.  Seasoned firewood is wood that has been left to dry outside for an average of 2 years. This drying process allows the trees natural oils, sap and water to slowly evaporate making the wood suitable for burning. Properly seasoned firewood should have an average moisture content of around 20% which is what the Woodsure Ready to Burn scheme believes to be sufficiently dry for burning.
The issue with seasoned firewood at the moment is that there are no regulations surrounding the sale of it so you might find a bag for sale in a shop and discover when you burn it that the moisture content is actually much higher than 20%, often as high as 40%. This is most likely because the wood has not been left to season for long enough. The Ready to Burn scheme hopes to put a stop to this false advertising by making it clear what wood is below 20% moisture content and what wood is not. Only wood bearing the Ready to Burn logo is guaranteed to meet the standard.
Is kiln dried wood ready to burn?
Kiln dried wood is generally the driest wood that you can buy therefore it is usually ready to burn. However, if kiln dried wood is not dried for long enough then it can also contain too much water/sap. The Forestry Commission studied the differences in burning wet wood and dry wood. They found that wet wood of 40% moisture content produced 2.89mwh/t whereas dry wood of 20% moisture content produced 4.086mwh/t. The dry wood produces almost twice as much heat as the wet wood as a great deal of energy is used to burn off the moisture in wet wood whereas that energy is expelled as heat from dry wood.
How do I know that the wood I am buying is dry enough to burn?
The Ready to Burn scheme has a clear logo and each accredited business/producer needs to display this logo plus their  individual registration number on their website/packaging.
This should make it very easy for consumers to know for sure if the wood they are buying is in fact ready to burn or not. You may have noticed that we have the logo and our registration number on several pages of our website. To become accredited by the Woodsure Ready to Burn scheme businesses need to pass rigorous tests to prove that their firewood is consistently below 20% moisture content. There are various tests/spot checks that are continually carried out on registered businesses to prove that their wood is still up to standard. From 21st February 2021 it will be illegal in England to sell wood in small net bags/ton bags unless it is guaranteed to be ready to burn and below 20% moisture content. Any businesses caught doing so will risk hefty fines. It is believed that Scotland will follow suit in the near future.