Hello 2021! It's been a challenging few weeks but here we are at the end of February already and the sky is blue and the sun is shining! We'd like to start by saying how much we appreciate the support and patience that we have received from our wonderful customers during this difficult period and look forward to sharing positive news for the future of Kingdom Firewood with you all very soon.
January 2021 started off on a positive note for our small business. We were all fit and well and our firewood orders were very busy which allowed us to take on extra staff which was great. Unfortunately this positivity didn't last long as we were soon caught up in the Covid/Brexit chaos that has engulfed the UK.
The demand for firewood across the whole of the UK was higher than any firewood supplier had ever experienced before! This meant that suppliers began competing with each other for raw timber which drove the price up and depleted the stocks very quickly.
Our regular suppliers were suddenly unable to supply us with firewood which left us in a tricky situation. We pulled together as a team and worked very hard to try to source other firewood suppliers but the demand on everyone was simply too high and we were left without any wood. The situation was so severe because companies who usually import their wood from abroad were having difficulties due to Brexit so were also competing for domestic stock. It was a perfect storm of firewood chaos!
We were acutely aware that our customers were in need of their firewood as winter was really starting to kick in so we began stocking more briquettes. Unfortunately our most popular briquette, Coffee Logs, became out of stock!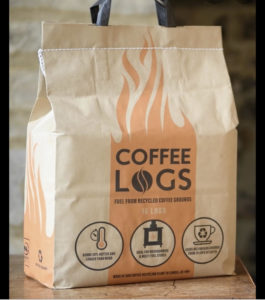 This was due to the fact that lots of Coffee Shops/bars had been closed for several months and the manufacturer was unable to source the used coffee grounds to make the briquettes. Coffee Logs are still out of stock and will be for a while longer as you can imagine.
We were pleased to see quite a few of our regular customers make the swap to HempLogz, Hot Blox or Pini Kay Hot Rods. We believe briquettes to be a great alternative to kiln dried firewood and the HempLogz in particular are an incredibly sustainable product, far better for the environment than traditional firewood. We do appreciate that briquettes are not quite the same as wood but our customers who decided to try them were overall very pleasantly surprised and very cosy which was great to hear.
The issues that we faced in the middle of January forced us to take a step back and evaluate how we were going to continue as a small business. They say what doesn't kill you makes you stronger and we couldn't agree more! After a few sleepless nights we got our thinking caps on and created a plan for the future and it's looking great!
We have a few new products in the pipeline and we can't wait to share them with you.
The first new product is Stovewood, which is currently out of stock on the website but will be available for sale in the next 2-3 weeks. Stovewood is Larch which grows in abundance in Scotland. Whilst Larch is technically a softwood, when kiln dried it burns the same as many hardwood species. After being in the kilns the moisture and oils are removed making it safe to burn and in line with the WoodSure Ready to Burn scheme. We are our strongest critic, we are always looking for the absolute highest quailty firewood to burn in our own stove, and so far we have been blown away by burning Stovewood. The heat, flame and burn times are on par with our mixed hardwood and at a much cheaper price per bag, this is the most bang for your buck! We will have more information regarding Stovewood and our other new products available soon.
Here's to the future and all that it holds! We may still technically be in winter (metaphorically and physically) but spring is just round the corner and we look forward to sharing the future with you. *photo credit for supply and demand image to the Finkelstein group