We are now half way through September and excited to kick off the new firewood season! The Scottish summer has been roasting this year and we hope everyone was able to enjoy some of the glorious sunshine. We had our full team Christmas party in July and it was well overdue but great to finally relax together.
 It's still fairly warm and sunny even now but we know that as the nights draw in the temperature drops and the need for firewood increases. We had a rocky end to the season last year with supply issues caused by an unprecedented demand for timber but we have learned from the experience and have adapted our small business so that we have a reliable, continuous firewood supply this winter.
You might be surprised to know that here at Kingdom Firewood we operate our firewood business with only 5 staff members and 2 canine helpers. I think everyone has become so used to the likes of Amazon that we presume most businesses are large scale operations with hundreds of staff members.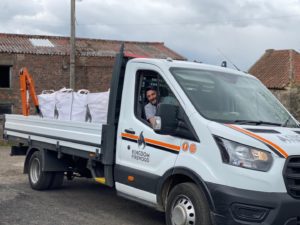 David is our fantastic delivery driver. He has been with us since February 2020 and is a real asset to the team. David is an experienced driver and knows the Fife roads like the back of his hand. He is currently our only driver so after delivering once he knows exactly where to leave deliveries, how to negotiate tight driveways and where to collect used bags from for us to recycle. He is always happy to go the extra mile, especially for our more vulnerable customers, and is much loved because of it.
Ross is our man in the shed. He started with us last autumn and has probably packed more firewood bags than I've had hot dinners!
We have considered buying a mechanical sorting machine to fill our bags but Ross likes his job and we like having him around. Humans are so much friendlier than machines!
We recently welcomed Amy to the Kingdom Firewood team after saying goodbye to Mahri who was our office star. Amy has settled in brilliantly in the office, taking customer orders, scheduling deliveries and most importantly keeping Arnie cosy!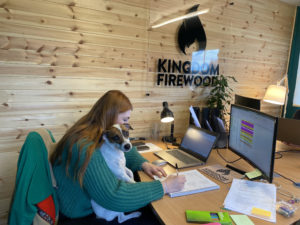 Callum and I are still here too working away in the background. We are always on the look out for new products that we think our customers will like. We introduced kiln dried Stovewood in March this year and it's proving popular. Our smokeless firepits were added in the summer and we have had lots of great feedback. We love using ours at home! Diego and Arnie are our family pets but they love hanging around the firewood shed and 'helping' out.
We recently purchased an old portacabin office which we have renovated and moved beside the firewood shed.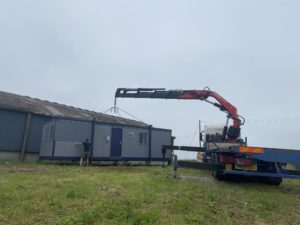 It's great to have the whole team on site now and it makes it much easier for customers to come up and collect firewood from us directly which tends to happen a lot around the Christmas rush! Another new addition to this season is a second vehicle on the road and a 6th member of the team! We plan to have Andy out delivering firewood in November/December and January when we are usually incredibly busy. He will be a great addition to our team and he can't wait to start! Here's to winter 2021-22!